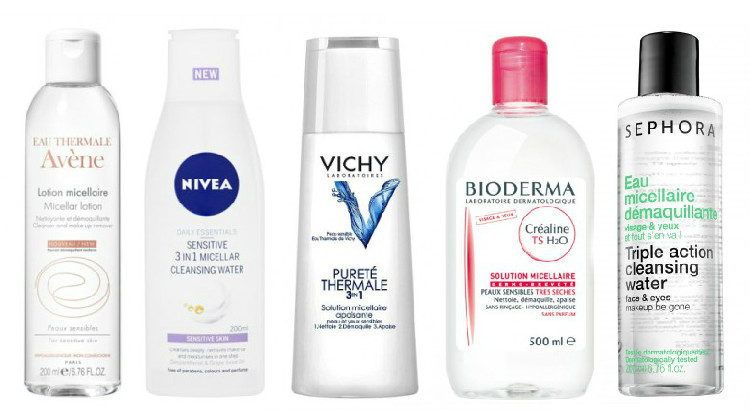 If you've been in the beauty aisles lately, you've probably seen the latest craze: micellar water. If you're anything like me, you've likely walked right past it and thought it was just another gimmick. Oh! How wrong we were! Here's the Who, What and Why of micellar water:
I've always struggled with my skin. I wish I had a before picture of how it's changed in the past few months but the truth is that I wouldn't have been caught dead without foundation on, let alone be caught on camera! I have always had reactive/dehydrated skin so if the wind so much as blows in my direction, I breakout!
This was the leading cause for me to enroll in
aesthetic
school and work for several years in a spa. I've since left the industry but skincare and makeup will always be super important in my life.
While pregnant, I was one of the lucky few whose skin improved. This effect lasted for months
postpartum
and I couldn't have been happier. Fast forward a year and my skin decided to bounce back into its old routine of being dull, dehydrated and marked with red spots. I decided that I needed to revamp my makeup and skin care regiment. Like most people, I got used to the same old products and didn't realize that it had been years since I re-evaluated my daily routine. Not to mention the fact that I'm now in my early 30's and my skin has very different needs than it did when I was in my 20's.
Enter
Anna. Anna introduced me to
La Mer's micellar water. Don't get me wrong, it sat dormant in my cabinet for months before I came to my senses and gave it a whirl. After all, I thought it was a gimmick! lol
Fast forward several months and my skin is getting back on track and even my hubby has commented on it's improvement. Hooray for listening to our bodies (and professionals)!
Here's the breakdown:
How it's used: Basically instead of harsh water, this soft 'water' has tiny micelles (or cleansing

oil balls) that attract dirt. It's great for times when you want to wash your face but don't have easy access to water or you just want something more gentle (such as early mornings, camping, at the gym,etc.)
Who's it for: People with dry, sensitive, reactive skin.
Skip it if you have oily skin or if you are wearing heavy makeup,
the micellar water doesn't cut through the grit like a good cleanser.
I use it first thing in the morning since my skin is clean. At night I use a make-up wipe and a mild cleanser and some times I use it like a toner.
Why: It doesn't strip your skin like water does and since their no alcohol, it can be even more PH balancing than a traditional toner. Just slap it on a cotton pad and swipe!
Brands that are taking it mainstream: La Mer, Sephora, Garnier, Lancome, Vichy just to name a few.
*These pictures of T and I are fresh faced at 7am on Christmas morning*